Help Your Self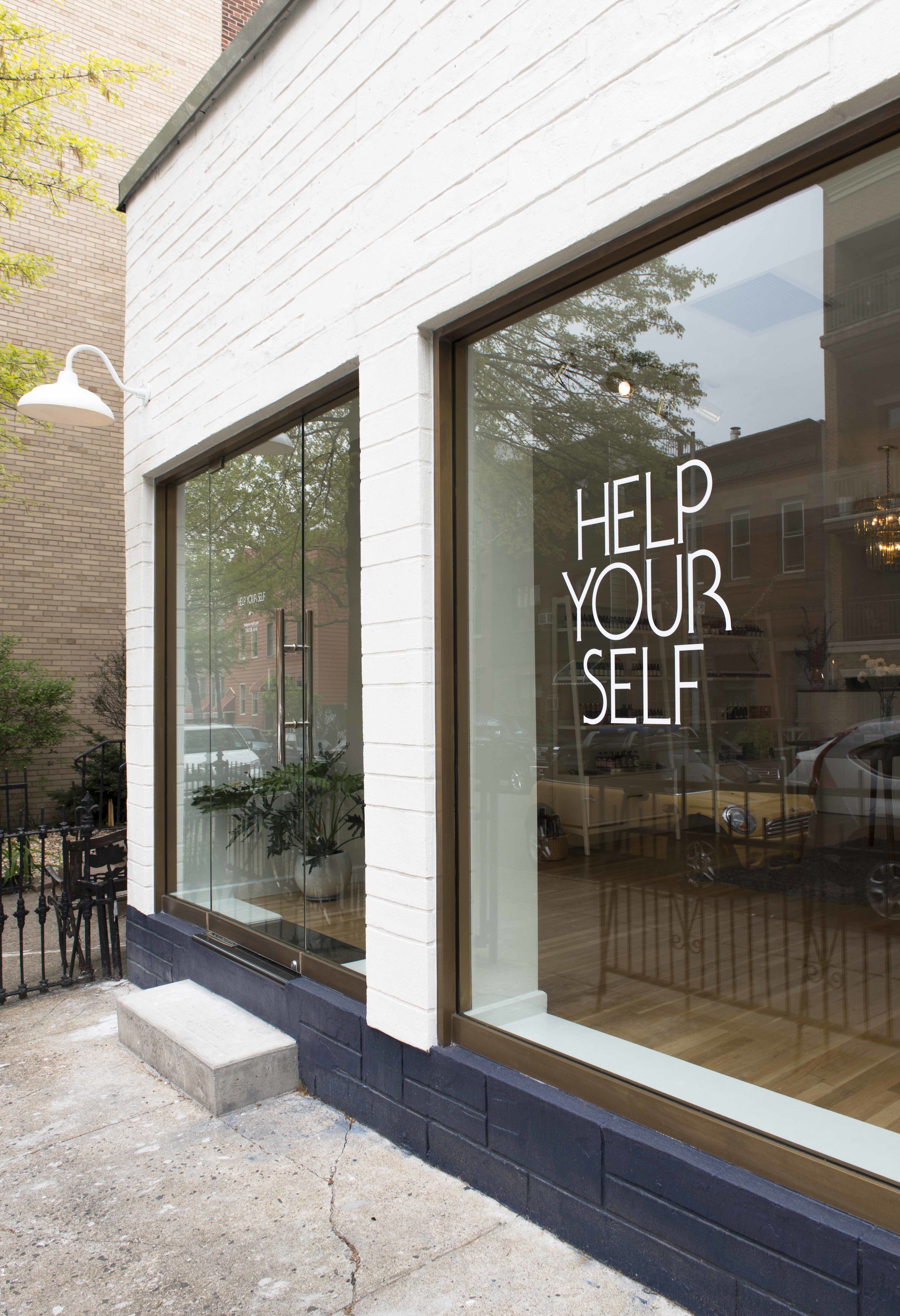 Images by Mariel Kon
Is it possible to have a crush on a store? Help Your Self, a wellness boutique located in Greenpoint, Brooklyn, is quite possibly my biggest crush yet. Set all in white, I walked in and felt immediately cleansed & calm. During my recent trip to New York, I had the opportunity to meet owner and founder, Catherine Foley. She is sweet, loving & so caring. So much that she even talks to the herbs in her store and thanks them for working with her.
Catherine has built a safe haven for stereotypical stressed out New Yorkers, who may just need to ingest some plant magic and chill the fuck out. Help Your Self is a one-stop shop for all of your body, mind & soul needs. From tinctures to tonics to herbal first aid to classes to privates, you can expect to come here and walk out feeling new and improved.
I am so honored to have Catherine on the blog today, and share this dream store with you.
Q&A with Catherine Foley, Founder of Help Your Self
Q: What is Help Your Self and why did you open shop?
A: Help Your Self is a holistic wellness store and healing space. We support small batch healing artisans in the United States - herbalists, farmers, distillers, aromatherapists, practitioners and artists. Everything in the store is 100% organic and botanical - we believe reconnection and right relationship with nature is fundamental in personal wellbeing and the wellbeing of the planet as a whole. Integrating plant medicine into our daily lives is a simple and profound step in that direction; whether it's using herbal-infused body oil, tree incense, an essential oil candle or a tincture. We live in a symbiotic relationship with the plant kingdom - we breathe for them and they breathe for us. It is the most significant relationship in our lives! Unfortunately, in modern times, we nourish this relationship less and less. At the core of our mission is to get you back into the practice of wellness. It does not typically require huge, broad changes, although those can be good, too. Whatever you can do each day is meaningful, even if it's just stopping for a moment and touching the bark on a tree, or taking in the deep blue sky. When you open your heart to the world in this way, we are all healed.
I opened Help Your Self because I received a vision during an acupuncture session in 2014 that I would open a "general store for the spirit" called Help Your Self. I was in a very different place at that time, managing the rooftop bar at the Wythe Hotel in Williamsburg. I actually love business operations, and was exploring the possibility of founding my own company, but I just didn't know what it would be. It's a deeply beautiful process to manifest your dreams.
Q: Why did you choose to open in Brooklyn?
A: I've lived in Greenpoint since 2010 and always worked in Williamsburg. This is truly my home now. In fact, I've never lived anywhere longer in my adult life. I grew up in the suburbs of New York City and community was a very important thing to my dad. He was always involved with the local organizations and activities. I was actually a state-certified volunteer firefighter in my hometown! My dad imparted the value of community to me, and by opening my business here, I can continue to be a part of the fabric of life in northern Brooklyn. Living and working in the same neighborhood in New York is pretty amazing.
Q: What does is it mean to you to be connected to your intuition?
A: My dad died tragically when I was 12. After that, I started to experience precognitive dreaming. This was my first conscious understanding of my intuition and I've been in relationship with it ever since. In fact, most of the time, I don't realize I'm using my intuition because it's so deeply woven into who I am and how I experience my environment. We are all born with intuition, it's just a matter of staying open and listening. I think New Yorkers are very intuitive people - we live in such a stimulating environment and our senses are constantly engaged. We're particularly good at perceiving B.S.!
Q: Walk us through a day in your life.
A: I like to sleep 8 to 10 hours a night, so I typically wake up between 8:30 and 9 am. The habits I formed as a teenager - namely, staying up late and sleeping in, have stayed with me. I like the feeling of being awake in the middle of the night when the world is quiet. It's my most creative time. And I have just never felt right waking up before 8 am. My family will tell you it's not a pretty time for me. After I wake up, I am slow to get out of bed. There is nothing more jarring for me than jumping out of the bed and running out of the house. I like to sit in the feelings of my dreams, check in with my body, my self, and process for a bit. Then I open my curtains and windows, light incense, light candles on my altar, put essential oils in the diffuser and smudge myself and my apartment with palo santo or cedar, calling in love and joy and all those good things.
I will make a protein-rich breakfast (think chicken liver and sauerkraut!), and after that, I sit in my meditation space and practice "light breathing," which I learned from my Shamanic Reiki teacher Llyn Roberts. It's a great way to release stagnant energies and draw cleansing, healing light into your body. Nine times out of 10, a cardinal will show up in the back yard when I am meditating. I'm not sure why, but this bird and I have a thing. There's also a huge maple tree out there, and I am very connected to that tree. After showering and going through my chemical-free beauty routine (thanks to the influence of my sister-in-law Tara Foley who founded Follain), I take all my vitamins and herbal supplements, and head to the shop. Stepping through the door and starting my day at Help Your Self is my high point. It makes me so happy to be here - I sing songs to all the herbs on the shelves and let them know how grateful I am to work with them.
Being a business owner and managing your time efficiently is an art that I am still getting the hang of. It is easy to feel pulled in many different directions, so I have to be diligent about protecting my energy, going slow and staying grounded. Getting just one or two things done on my eternal to-do list is a victory and I really try to celebrate the small, sometimes menial, triumphs. The real highlight of what I do every day is engaging with our customers and clients. Coming from a hospitality background, making real and meaningful connections with those who support Help Your Self is my absolute priority over everything else. This is a no-pretention zone where laughter and fun is encouraged. Life can be intense and painful. We are tested and challenged every day to be the person we want to be. New York is a very spiritual place in that sense. When you are called to get back in the driver's seat of your own life and wellbeing - to help yourself - sometimes it can get harder before it gets easier. Help Your Self is a refuge in that way, and your personal support system. After I close up shop for the evening, I typically head home, make dinner and unwind, or try to get out and see my friends and family. Just before I fall asleep, I do Reiki on myself and ask my dreams to help me understand a certain issue or experience. I also like to send out gratitude and light to the people in my life.
Q: What are some of your non-negotiable wellness practices or alternative treatments that you must do throughout the month?
A: The most significant practices for me are mindfulness and setting clear intentions. I am always checking in with myself and observing the feelings running through me. When I am feeling constricted, fearful or mad, I practice loving self-compassion, self-soothing and breathing love and acceptance into those feelings. Wellness is not about attaining perfection. It's about being comfortable with your imperfections and healing shame.
Emotional intelligence is something we have to fumble with and learn on our own - we are essentially socialized to not feel our feelings, which really is the root of much of our pain. Emotions are overwhelming, so we find shortcuts that feel okay in the moment, but wreak havoc over the long run. I spend a lot of time unlearning behaviors and retraining my brain. I also try to take ownership of my bad behavior. I grew up in a fiery, "blow and go" family, experienced traumas, and as an Aries, am inherently fiery. This is a powerful trifecta that has led to a lot of destruction in my life. As I get to know myself more, I am really working to transform these energies in a positive way. It can feel like surgery at times. But the intentions you set are like the overarching tone of your life - all the energy will follow those intentions. Being very clear about your intentions is important. The universe does listen, for better or for worse.
Q: Are New Yorkers hip to alternative health and wellness?
A: Wellness is definitely in the zeitgeist here. In a recent episode of the Real Housewives of New York City, Sonja Morgan talked about smudging her apartment with sage, Vogue is writing about flower essences and crystals, and Reiki Masters are employed in our hospitals. That being said, New Yorkers are traditionalists. We approach change and newness with some skepticism, especially if it's trendy or faddish. I appreciate this because there's a lot out there in the wellness world, and it's important to be discriminating. New Yorkers have an innate sense for authenticity, so I think whatever has staying power, you can trust to be the real deal.
Q: What books are you reading right now?
A: I am reading Soul Retrieval by Sandra Ingerman. I am doing a week long soul retrieval training with her in Joshua Tree in October. I'm excited to bring this practice back to Greenpoint!
Q: What is your grand vision for HYS?
A: We are just about to launch the booking component of our website, which means you will be able to sign up for healing services and workshops online. I have an amazing group of practitioners ready to offer their services here, and teachers eager to share their wisdom. We also want to start offering private group ceremonies and rituals for special occasions like birthdays and anniversaries. Later this year, we will launch e-commerce, and next year, I will be developing a Help Your Self product line. In the long run, I would love to open another location or two, and have also contemplated the idea of a retreat space in the Catskills.
Q: What ingredients make for a super life?
A: Irreverence, mystery and connection.